6 Reasons why now is the time to invest in digital marketing
The Corona Pandemic hit the global Machine Vision sector and intensifies the challenges it was facing already in 2019. Today, we are sharing with you the 6 Reasons why now is the time to invest in digital marketing.
Let them resonate with you and feel free to utilize them when convincing your colleagues on how much budget you need and what to use it for.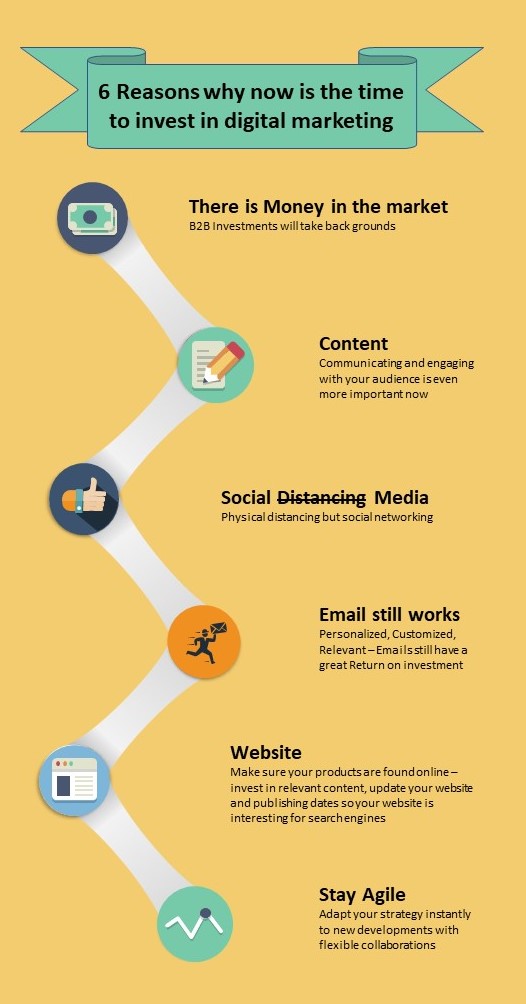 There is money in the market
The lockdown was a shock to the markets, but as we see in China the economy is gaining steam again. Also, the stock markets show a steady recovery in the last weeks.
This U-form of drop and recovery could be a good sign overall and show a similar return for business.
Therefore, we can be expected that investments in equipment are coming back soon. The short-term devastation we have seen in April and May is already easing now mid of June. Especially automotive is expecting recovery (see the German Ifo Geschäftsklima-Index). The engineering sector is still skeptical, but due to the low-interest rates combined with a drop in the consumer markets, B2B investments should take back some grounds.
Think long term, not short term! The practical reality is, we need to market now – economical, effective, and agile at the same time.
Content
Does your sales staff struggle at the moment? Communicating and engaging with your audience is essential – even more important than before.
During this time of skeptical restraint do not focus on selling – show how you can help your customers!
This is the time for good content, educational case studies, webinars, and online tutorials for example introducing technologies and strategies for remote services.
Social Distancing Media
As Social Media usage is going up due to physical distancing, you can use this to enhance the reach of your corporate channels and strengthen your personal network. Engage in conversations with your customers for example in subject-related groups and forums. Comment on relevant posts, like, and share.
This is the time to connect and build up or strengthen business relationships. The focus should be mid- and long-term. What you can do right now is providing value and being a friend to your network?
Highlight how you can help and give support, share relevant content to spread relevant information you like and find interesting. We are all in this together!
Email still works!
As trade fairs are canceled and conferences are held only virtually, email communication has always been and is still a good way to keep in touch with your customers. Emails seem very old-school but studies show emailing is the channel with the highest return on investment. Be sure your mailings are personalized, customized, and relevant for your audience.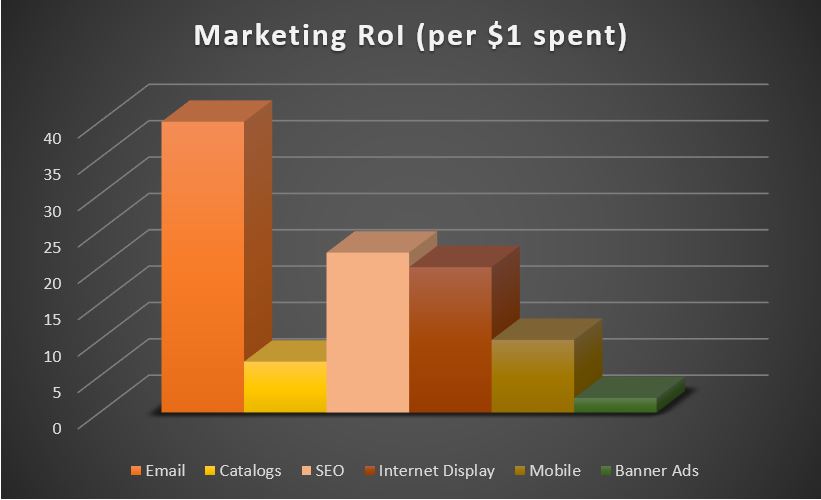 Website
Most B2B deals start with a Google search – especially in Corona times. A low-cost option to increase your rankings on Google is to update your website content.
Include questions your customer might ask in your headlines and blog entries. This gives your content an instant booth in search ratings as the Google algorithm looks for answers on concrete questions.
Make sure your products are found online – invest in relevant content, update your website and publishing dates so your website is interesting for search engines
Adapt instantly
Developments are fast and predictions are only very short-term. Stay agile with your marketing strategy and your spending. Start with reasonable, low-cost elements like website updates and upgrades, social media, and content you might already have in the hindquarters.
We are happy to help you with your marketing strategy, content creation, and reporting. For our close network and existing customers, we are happy to do individual budget solutions.
Are you interested in news, analyses, and expert advice for Marketing and Sales professionals in Machine Vision? Join the VisionLytics community of Machine Vision marketers!