Poll Results: Is it Still too Early for Trade Shows and Conferences?
Trade shows are still one of the most important sources for B2B sales leads in Machine Vision. Technical and business conferences are key events for knowledge exchange, trend scouting, and networking.
Yet, the COVID-19 pandemic forced organizers to cancel their events or postpone them till the end of 2020 or into 2021. On 2020-07-07 the organizers of the trade fair Vision in Stuttgart announced the cancellation of the 2020 on-site event.
Yet, the Vision China show in Shanghai will opened its doors from July 3rd to 5th. Usually, this show is held in March. 229 Machine Vision exhibitors signed up for the entire Laser World of Photonics China. The organizer announced that 100,000 visitors came to the show this year.
How will customers receive trade shows and conferences in general? Can exhibitors expect sufficient traffic of prospects on their booths?
To answer these questions, Vision Markets has conducted a LinkedIn poll at the end of June 2020. Here are the results split by economic regions: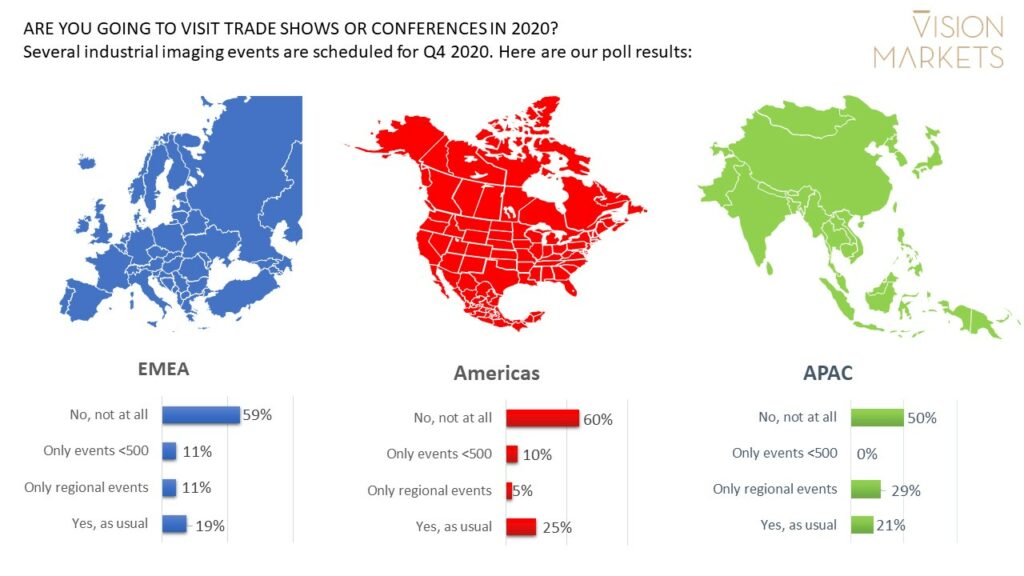 Throughout all economic regions, a majority from 50 to 60% declared they will not be attending any industry events at all. Between 15 to 22% are at least attending small or regional events in EMEA and the Americas, while in APAC, 29% of the participants are open to join regional events, especially within China.
74 community members shared their vote, where 37 originated from EMEA and the rest were equally distributed among the Americas and APAC.
Consequentially, trade shows will be dropping out as sources for sales leads for the foreseeable future. Thus, Machine Vision players need to re-consider their Go-To-Market strategy, marketing communications, and sales approach to make up for their reduced exposure to target customers.
Do you want to generate sales leads and still save a lot of your freed budget from canceled trade shows?