4 Good Reasons for Content Marketing in your Customers' Language
Market leaders in Machine Vision are hosting their website in up to 10 languages. What is the reasoning behind and what may you consider when translating your marketing content into the language of your target customers.
---
EXECUTIVE SUMMARY
Creating marketing content in the local language has highly beneficial effects on SEO and Customer Experience. In consequence, examples show accelerated business growth in the corresponding target market.
Machine Vision market leaders maintain multi-localized web-presences. They translate their marketing content into the languages of their target markets.
Translations must be flawless, especially when they involve technical details. The use of false terminology in translations ruins a vendor's reputation of local presence and/or technical expertise.
---
The websites of players like Cognex, FLIR, and Edmund Optics are providing their content in twelve, eight, and seven languages, respectively. Twelve of the top-13 OEMs of Machine Vision Components host their website in more than one language. All websites are in English. German, Chinese, and Japanese are also most common but one is even available in Portuguese. Below you can find charts and tables with further statistics.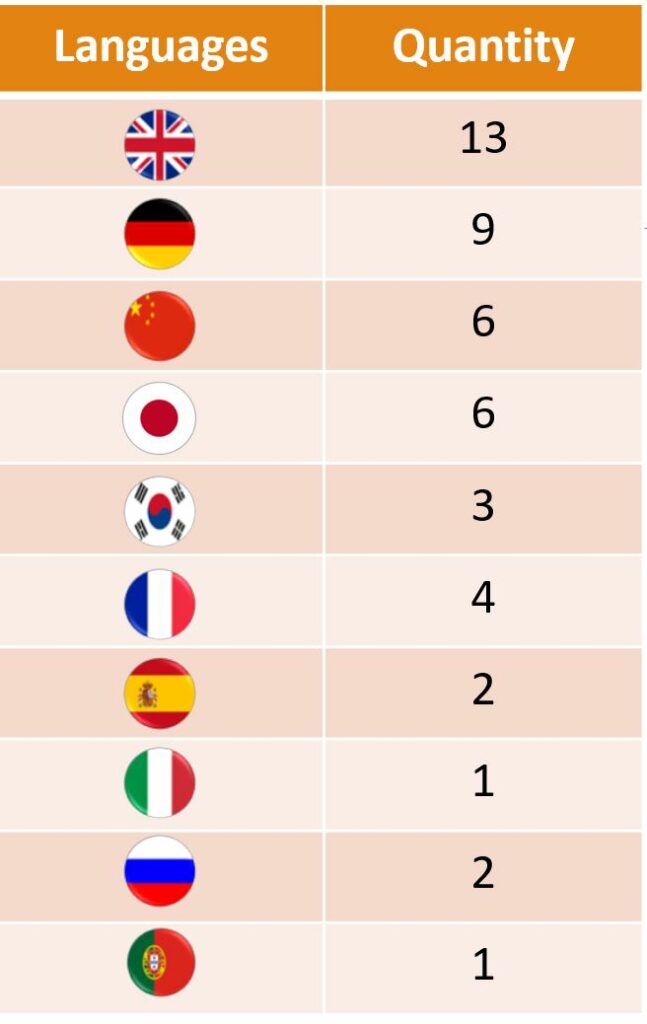 Why do these market leaders take the effort to translate their marketing content into foreign languages? Here are the top-4 reasons:
Users Tend to Search in their Local Language
According to Vision Market's analyses, the EU and North America accounted for 54% of the global Machine Vision component market. While English is considered as the most common language in the world by native and second-language speakers this is especially true for the Western hemisphere and the high-tech community. Thus, it is not surprising that vendors provide their website in English in the first place.
Yet, Machine Vision target customers even in France, Italy, Spain, and the DACH region tend to search online in their native language instead of English. When splitting EMEA into DACH and the rest of EMEA, China is the biggest single market for imaging technologies. With numerous local suppliers, there is no point in trying to win business in China without Mandarine speaking staff and marketing content in the local language. On a just slightly eased level, the same holds for Japan and South Korea.
Search Engines Prefer Websites in the Local Language and on Local Servers
Search Engines obviously favor websites that are available in the same language as the user's browser setting and the entered search term. This was proven by an experiment conducted by Vision Markets with one of its clients: After translating their website from English to German, the number of website users from Germany grew by up to 52% yoy. The page started ranking on the first page of Google for 10 of the most important key phrases. In the following year, our client's high 6-digit business in the DACH region had grown by 45% without local resources in sales.
The search engine performance of a translated website improves further with the use of a Content Delivery Network (CDN). These networks emulate a hosting server of a website located in or near a target region. This increases the load speed of the website and gives search engines the impression of a server location closeby. Both aspects let search engines increase their rating of the relevance of a website for the target region.
2. Improved Customer Experience
What does it tell target customers, when a vendor provides its website and marketing content in their local language? First of all, it shows dedication to servicing a specific market. Customers unconsciously assume that the vendor already has significant business in their region, and therefore it shall be easy to do business with him. Customers at least hope for native speakers in your sales force and your technical support team.
Great content is worthless if it is hard to understand for the target audience. Descriptions of product features, educational content, and your corporate identity must reach their destination to resonate: the hearts and minds of the prospects. With content in the native language of the target clients, this goal is much easier achieved than through a foreign language.
3. Opportunity to Show Expertise and Core Values
The majority of the effort lies in the initial creation of copy, independent of the language it is created in. The translation of the text into different languages is a relatively small step.
Uncompromised quality and reliability are often the most important requirements of Machine Vision customers. Therefore, these should be part of the corporate core values of every OEM in the market. By using the right technical terminology in every language, vendors can display their attention to detail, quality, and their expertise in a subject.
Thus, the high quality of translations is key. Flaws, e.g. in false translations of technical terms, can ruin a vendor's reputation as an expert and trustworthy partner in the eyes of a new prospect. Typical translation bureaus are not educated enough for using the correct terminology in the target language. In-house translation reviews or the training of non-technical translation staff is time-consuming. Therefore, translations of content about Machine Vision and its target applications should always be performed by technical experts with great language skills.
4. Competitors Do
The market intelligence team of the Vision Markets Network has screened the websites of the top-13 component OEMs in Machine Vision. Here you can find an overview of the languages provided: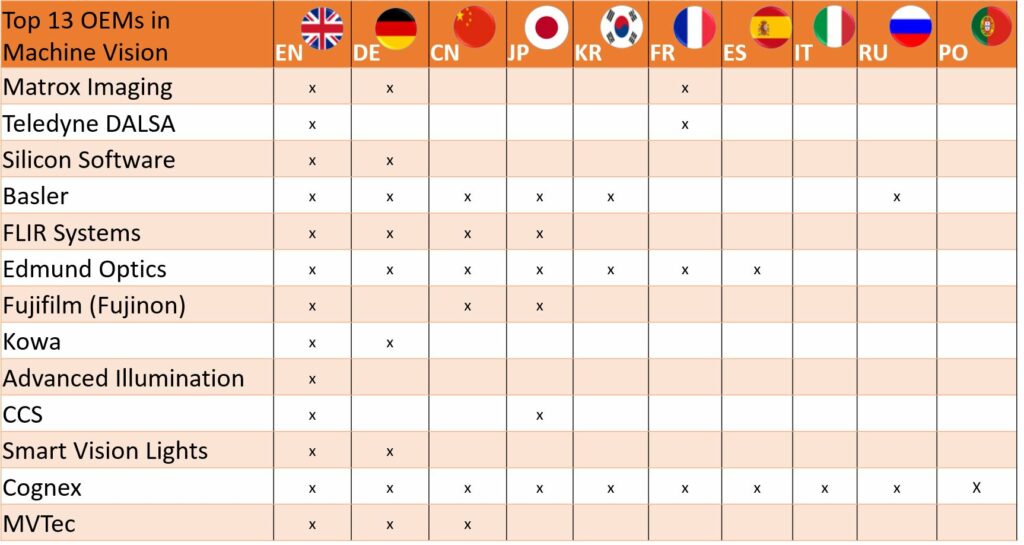 Localized websites and marketing content is a priority for the leading players in Machine Vision. Would they do it, if it didn't pay off?
Several of them want to…
… provide the best customer experience to their clients in Germany, France, UK/US, or China.
… make sure their local content is perfect in language and machine vision terminology.
… invest as little time and resources as possible on the translations of website texts, email newsletters, white papers, press releases, and collateral.
We are happy to count them as valued customers of Vision Markets.
Get your website and content translated into German, English, Chinese, Italian, French, or Spanish! Our experts ensure the correct use of Machine Vision terminology and let you shine as subject expert.
---
Are you serious about machine vision marketing? Join our VisionLytics community of marketing executives here: https://markets.vision/visionlytics/