Darkness and Glimmers – Machine Vision Market Update 2023-08
About our Indicators and Regional Market Segmentation
Most Machine Vision companies mainly target the industrial production market. Therefore, the economic indicators of the manufacturing activity in different regions are crucial for estimating and predicting the trends of the machine vision market. In this article, we will discuss two indicators: one that reflects the performance in the recent past and one that anticipates the prospects of the manufacturing sector.
Lagging indicator: Change of Manufacturing Output in percent year-over-year (YoY) by country
Leading indicator: Sentiment index of purchasing managers in manufacturing, also known as Manufacturing PMI (M-PMI). An index value above 50 indicates a positive trend, while a value below 50 indicates a negative trend.
We divide the global market for machine vision products into five regions: North America, EMEA, China, Japan & Korea, and Rest of World (RoW). Each of these regions (except for RoW) contributed between 1 and 2 billion USD to the global sales revenues of machine vision components in 2022. This segmentation reflects the regional differences and maintains a reasonable balance among the geographies.
For simplicity, we will use the US and the EU indicators as representatives of their regions, North America and EMEA respectively.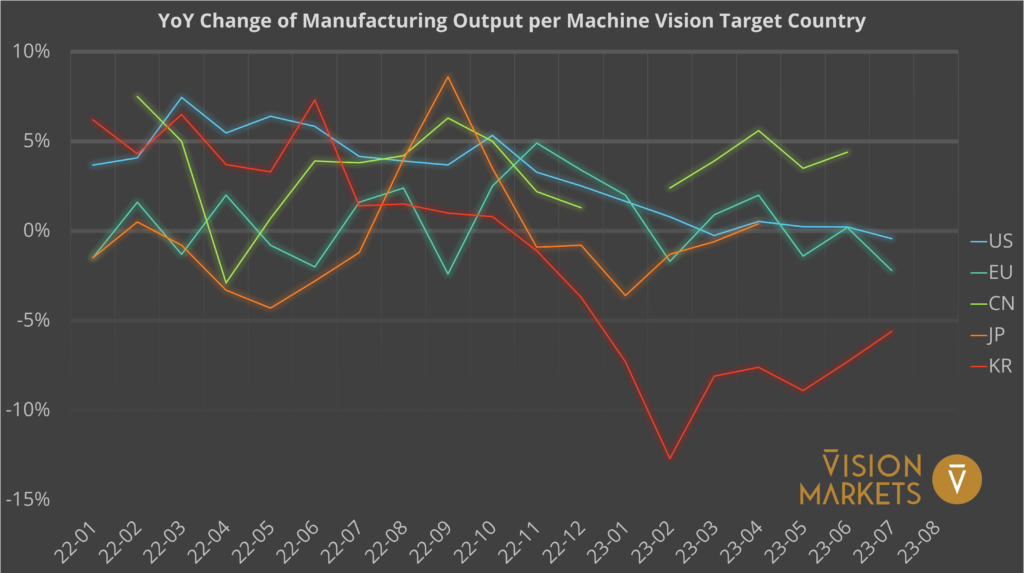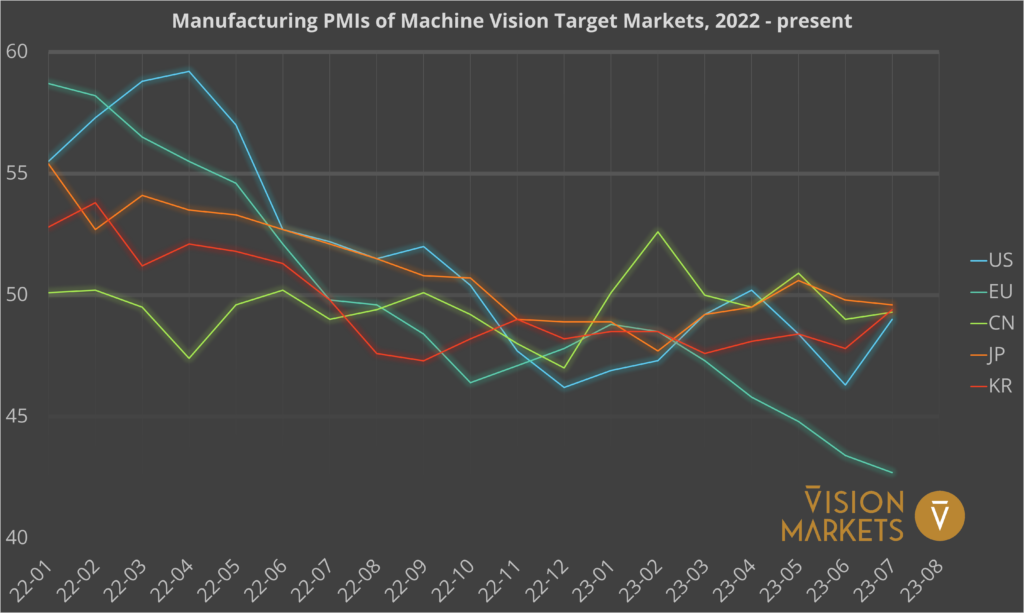 United States of America:
Stagnation with hope for a recovery
According to the OECD estimates, the manufacturing output of the US (blue line) grew by 2.9% YoY in 2022. The beginning of 2023 showed further YoY growth, while the beginning of 2022 was still under the pressure of the pandemic. Since March, their line has fluctuated around +-0% and the long-term trend seems to be downward.
The M-PMI average of 48.2 over the first seven months of 2023 also suggests a decline in production activities. However, some indicators that look further ahead than purchasing managers' expectations, give hope for a recovery in the next 12 months and beyond. For instance, private construction investments for the manufacturing of semiconductors and electronics surged to almost 100 bn$ in April under the influence of the US CHIPS Act and Inflation Reduction Act, or IRA.
European Union:
Pessimistic outlook
In short, the EU (cyan line), especially Germany, is facing a severe and worsening recession in manufacturing. While in three out of seven months the manufacturing output grew YoY, the trend is clearly downward. The M-PMI reading in 2023 has been constantly declining, reaching a value of just 42.7 in July, indicating that European producers are struggling significantly. What's worse, Germany's M-PMI dropped below the mark of 40 in July.
Despite its steady decline in share, Germany still accounted for 32% of the EU's manufacturing GDP in 2021. The International Monetary Fund expects a GDP decline of -0.3% for Germany in 2023 due to an enforced "Made in China" policy by Germany's second largest trade partner, as well as unresolved challenges for businesses from energy cost, interest rates, and bureaucracy. Additionally, lower investment activities and the inability to attract skilled workers from outside Europe are hampering Germany's competitiveness.
Heavily subsidized factories for semiconductors (TSMC, Infineon, Bosch, Intel, etc.), batteries (ProLogium, NorthVolt, ACC, LG, Samsung, etc.), and hydrogen as well as expanded corporate research centers are steps in the right direction for the EU. However, it remains to be seen if they will be enough to reverse the downturn of the European manufacturing industry.
China:
Growing protectionism
Since 2022, China (green line) is the largest single target market for machine vision components (Source: Annual market report "Machine Vision Components 2017 to 2027"). The ruling party largely refrained from injecting money into the economy during the Corona lockdowns. Recently, the Yuan is facing deflation due to weak consumer demand, among further reasons.
Compared to the other economies here, China's manufacturing output has stayed well in growth territory throughout 2023 and might end up at 4 to 5% on average, which is impressive considering its total manufacturing GDP. However, it is becoming harder and harder for non-domestic vendors to benefit from this growth. The "Made-in-China" policy favors domestic suppliers rigorously at the expense of foreign players. Moreover, as economic and political relations are tightening and the fear of an invasion into Taiwan increases, western giants in semiconductors and electronics are relocating production sites to "ROW" countries – see below.
Japan & Korea:
Cautious optimism
South Korea (red line) is suffering from its longest downturn in factory activity in 19 years. Asia's fourth largest economy is struggling from weak demand in its core export markets, particularly in Europe and Asia. Samsung's total revenue declined by 19% and 22% YoY in Q1 and Q2 of 2023 respectively.
Japan (orange line) posted a solid recovery of its manufacturing output from low levels in the second half of 2022, but the year ended and 2023 started well below the 0% level. The latest available reading goes back to April, where it turned positive again, along with a sudden jump of the M-PMI in May. Despite readings below the growth-indicating 50-line, the trend since January 2023 is pointing upwards.
Korea's and Japan's machine vision sales benefit from their strong position as semiconductor manufacturing hubs as alternatives to Taiwan. Toyota showed a steep growth in total revenue of over 18% YoY in the first quarters of 2023, while also benefiting from overseas operations.
Rest of World (RoW):
Land of opportunities
Besides the economies above, let's take a look at the emerging manufacturing powerhouses of the world, namely Mexico (light-blue line), Vietnam (light-green line), and India (light-blue line).
In 2022, Mexico's Manufacturing GDP showed a solid growth of 5.2% vs. 2021 and still 3.7% compared to pre-pandemic 2019, according to OECD. In late 2022, Mexico's M-PMI readings were all slightly above 50, which resulted in a growth of 2.7% in industrial production output, approximated by the average monthly YoY trend in H1 2023. With an average M-PMI reading of 50.6 in 2023 so far, no major acceleration can be expected. However, Tesla, BMW, and Ternium (steel), among many other industrial OEMs, have invested billions of USD into new factories in Mexico driven by near-shoring initiatives of US producers for their supply chain.
Vietnam is the nearest go-to location for Western producers pulling out from China, whether it is due to high labor costs or political tensions. With an added-value manufacturing output of 90 bn$ in 2021, Vietnam is still a dwarf in global terms but ramping up beyond its traditionally strong textile industry. Even China's largest display maker by output, BOE Technology, is investing up to 400 m$ in new factories. Samsung already produces half of its smartphones in Vietnam. However, Vietnam's M-PMI showed high volatility in H1 2023 coming from positive territory in 2022 declining to its lowest reading of 45.3 in May. Recovery is underway but the overall trend in manufacturing is still pointing to a contraction. China is the second largest export destination of Vietnam, thus, the weakness of its northern neighbor harms manufacturing activities.
India, finally, continues its rally of new investments from global players and huge domestic conglomerates like Tata and Reliance Industries. India's purchasing managers of manufacturers are almost enthusiastic about the near future with an average reading of 56.9 in 2023 and pointing upwards. In 2021, India's population reached over 1.4 billion and its per capita GDP rose to 2,257 USD, an increase of 10.3% over 2019. The large domestic market, low labor cost, and the availability of a skilled workforce attracted players like Apple/Foxconn, Amazon, and many others with multiple billions of dollars for the manufacturing of consumer electronics, pharmaceuticals, batteries, solar panels, and more. Therefore, India constitutes a core growth opportunity for machine vision players and Vision Markets is offering a dedicated service with local partners to facilitate the market entry and expansion in India.
Getting prepared for the future
The machine vision market is far off its golden times in the 2010 years. Yet, the need for yield, quality, flexibility, and cost-cutting drives manufacturing automation across the globe continuously. Industrial Production Output and Manufacturing PMI are important but they are only a small part of over 100 economic indicators and companies that Vision Markets is constantly including in its continuous analysis of the machine vision market. Especially for business planning for the next fiscal year and further strategy development, the unique market insights by the researchers of Vision Markets provide data-driven decision-making support. Our team of business consultants consists of former CEOs and executives of major machine vision corporations. They facilitate the development and implementation of successful growth strategies for ambitious machine vision players.
Don't miss our future market updates! Subscribe to our VisionCrunch business newsletter today!