SEO: What are the top-ranking machine vision camera brands?
At Vision Markets, we provide our clients with key market insights for the sustainable success of their businesses. Through our Marketing Consulting services, we enhance the brand awareness of our clients in their respective target segments. One key KPI of the strength of a brand is the ranking of its website in organic search results on Google, the so-called SERP (Search Engine Ranking Position).
What is SERP?
SERP is the rank a specific web page achieves in organic search results in a search engine like Google for a given keyword. Organic means the genuine search results, excluding paid ads displayed on top of the result page. For example, if you are a machine vision camera vendor, does your website appear on top of the Google results for the keyword "machine vision camera"? There are as many SERPs as there are keywords. For example, you may have a great ranking for "machine vision camera" but a poor one for "image-processing software". Your goal should be to have a good SERP for the keywords your target clients are searching for. If you are highly specialized, these might be more specific, so-called long-tail keywords, for example: "Lightweight GigE Vision cameras for robot applications".
A high ranking for a given keyword is a good indicator of the strength of a brand in a given market segment. We monitor trends in key segments of the vision market and the results are sometimes surprising, as the below example of the keyword "machine vision camera" shows.
The top 10 brands for machine vision cameras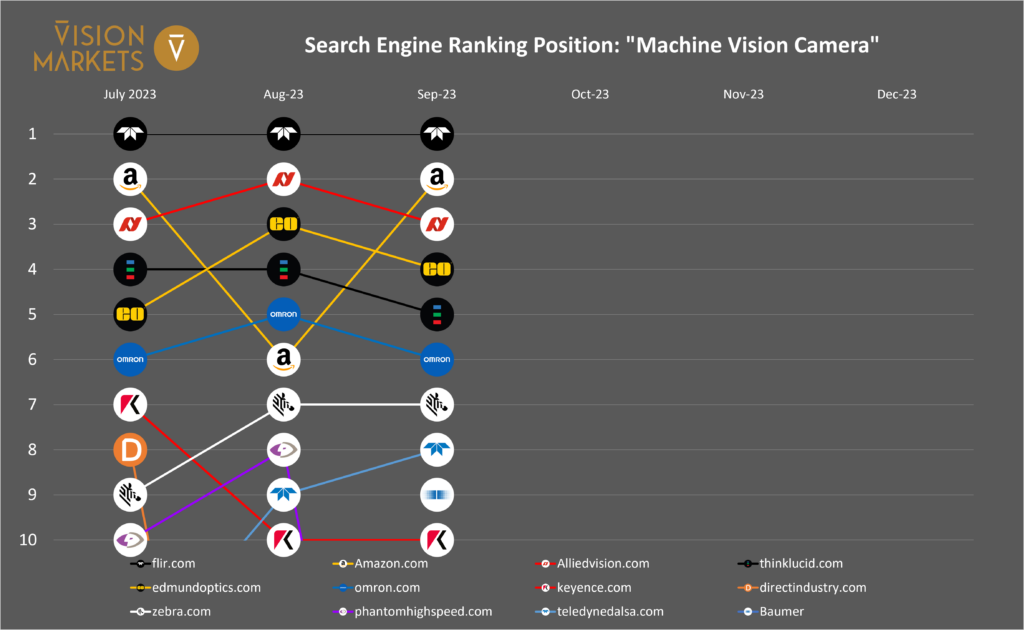 The chart above shows the domains ranking in the top 10 positions in the search results for the keyword "machine vision camera" in Q3/2023. The results might be surprising as some big names are missing (e.g., Cognex, Basler, Baumer) while smaller companies succeed in ranking on the top of the result page (e.g., Lucid Vision Labs, Phantom). Interestingly, not all top-ranking companies are camera manufacturers. Distributors like Amazon.com, Edmundoptics.com, or the portal Directindustry.com appear among the top 10 results.
There seems to be a bonus for larger organizations such as Teledyne Flir, Edmund Optics, Omron, Keyence, or Zebra. Typically, this is not only due to the quality of their landing pages for the "machine vision camera" keyword but also supported by their Domain Authority. Domain Authority (DA) is an SEO KPI that expresses the trustworthiness of a specific root domain (e.g., flir.com). Pages with a high domain authority are more likely to rank higher in search results. The domain authority is mainly driven by the number of third-party websites that link to your domain (aka backlinks), as well as their own authority, so larger organizations that have been in the market for a long time usually have higher domain authorities than start-ups.
It is not just about domain authority, though. Smaller organizations like Allied Vision or Lucid Vision Labs succeed in achieving high rankings for machine vision cameras with well-optimized landing pages and website setups.
Why do you get different search engine results in your web browser?
The chart above may not reflect your own experience. This is because many factors influence your personalized search engine results and these may vary depending on your location, your language settings, and primarily your individual browsing behavior which is tracked by Google, etc. The monitoring above is created by a generic search simulated on the English version of Google in the United States. We also track the SERP of various keywords such as "high-speed camera", "line-scan camera", frame grabber", "fixed focal lens", "industrial lens", "embedded vision", "industrial laser", etc. in different languages and regions, some of them since back to 2018.
If you want to improve the SERP of your own website, you should start by defining which keyword(s) you want to focus on, and then optimize your website accordingly, for example with a dedicated landing page offering highly relevant content. Technical aspects such as loading time or the mobile experience can support or damage your ranking further. For sustainable success, it is a good idea to work on improving your domain authority e.g., by acquiring backlinks through creating authoritative content.
Ask our experts!
We are marketing experts specialized in the global machine vision industry. Ask our experts for advice! We are happy to help you improve your SERP and monitor your own performance for the keywords critical for your business. On top, we benchmark the trend against your competitors. Contact us today!
Do you want to receive quarterly updates of our SERP reports? Subscribe to our newsletter!