SEO: What are the top-ranking machine vision lens brands?
One key KPI of the strength of a brand is the ranking of its website in organic search results on Google, the so-called SERP (Search Engine Ranking Position). At Vision Markets, we provide our clients with key market insights for the sustainable success of their businesses. We have been tracking many keywords for years now as part of our on-going monitoring of the vision market.
The chart below shows the top 10 top Search Engine Ranking Positions (SERP) for as generic search for the keyword "machine vision lens" simulated on the US version of Google.com. These results may not reflect your own experience. This is because many factors influence your personalized search engine results. These may vary depending on your location, your language settings, and primarily your individual browsing behavior which is tracked by Google, etc. However, this generic result is a good indicator of the strength of a brand for a given keyword.
The top 10 brands for machine vision lenses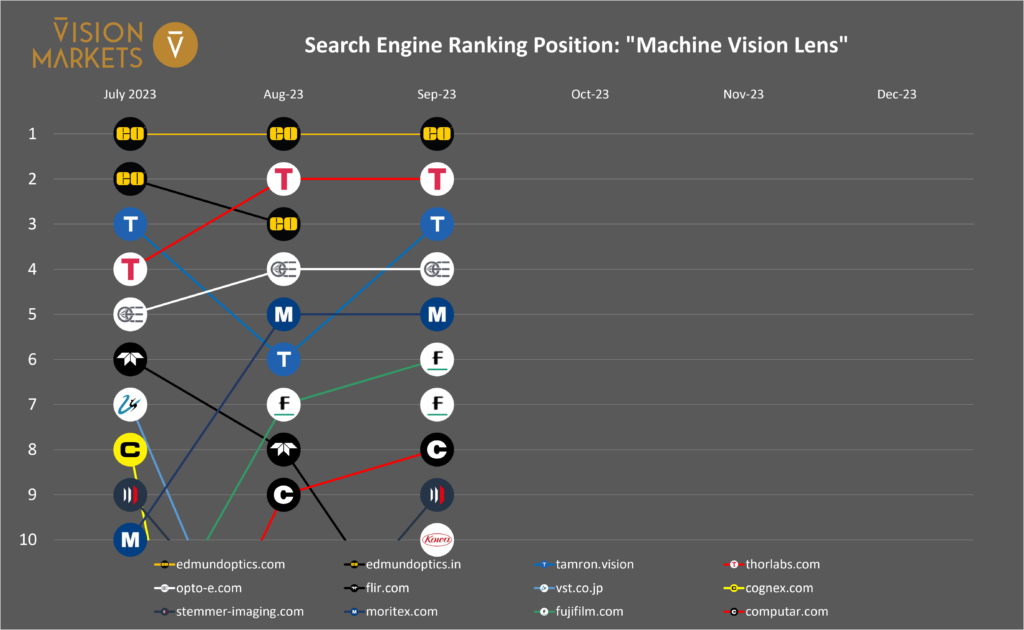 Not surprisingly, the top players (Edmund Optics, Tamron, Fujifilm, Kowa,…) appear in the top 10 results. However, looking at the results in detail shows some interesting insights. For example, Edmund Optics' Indian website ranked very high in July and August 2023 along with edmundoptics.com before falling out in September. Thorlabs shows a very good performance and so does Opto-Engineering. On the other hand, the ranking of Kowa does not reflect the brand's position in the machine vision market.
Global domain vs. dedicated domain
Large international corporations such as the Japanese manufacturers Tamron, Fujifilm, and Kowa, follow different strategies with their website domains: While Fujifilm consistently uses the main corporate domain Fujifilm.com, Tamron and Kowa have dedicated websites and domains for the machine vision business with tamron.vision and kowa-lenses.com respectively.
Having such a dedicated domain has pros and cons. You lose the power of a well-established domain with a high domain authority, which can be a drawback for your search engine optimization. Different regional websites addressing the same market (e.g. North America, EMEA, APAC) may end up competing on the same keywords, as the example of Edmund Optics show.
On the other hand, your content is much more focused on a specific target audience and their keywords, which is beneficial both for the user experience and the relevance of your pages. In the case of lenses, having different websites for consumer and professional users can make a lot of sense. Comparing Tamron and Kowa shows there is no secret formula, though: tamron.vision, which is a dedicated machine vision website from Tamron Europe, performs very well, while kowa-lenses.com barely appears in the top 10.
Also note that one domain can be featured several times in the top 10 results with several subpages. This is the case for Fujifilm in September.
Ask our experts!
We are marketing experts specialized in the global machine vision industry. Ask our experts for advice! We are happy to help you improve your SERP and monitor your own performance for the keywords that are critical for your business and benchmark the trend against your competitors. Contact us today!
Do you want to receive quarterly updates of our SERP reports? Subscribe to our marketing newsletter!