SEO: What are the top-ranking machine vision light brands?
At Vision Markets, we monitor the performance of our clients and their competitors on Google Search for their target keywords. The Search Engine Ranking Position (SERP) is a good indicator of the strength of a brand on a specific market segment. Who were the top players in Q3/2023?
The chart below shows the top 10 domains as they appear on a standard Google.com search for the keyword "Machine vision light" performed in the United States. These results may differ from your own experience because of Google's localization and personalization based on your individual user profile. These are generic results ignoring any user personalization.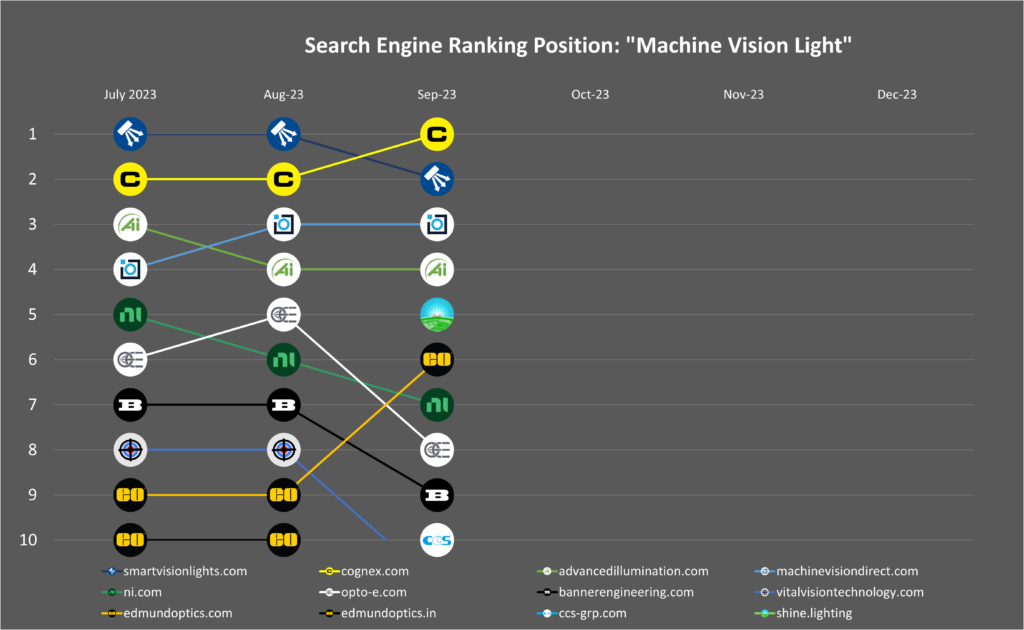 Not surprisingly, all the big names of the industry are represented in the top 10: Smart Vision Lights, Cognex, Advanced Illumination, Opto-Engineering, NI, Banner Engineering etc. CCS' performance is disappointing compared to its competitors, as it only appears in the top 10 on rank 10 in September. It will be interesting to see if the upward trend continues in Q4.
As for the keyword "machine vision camera", Edmund Optics appears both with their .com domain and with their Indian .in domain in July and August. The company might have performed some consolidation/optimization as edmundoptics.in disappears from the top 10 in September while edmundoptics.com moves up 3 ranks.
Another similar trend to our machine vision camera SERP report is that not only manufacturers appear in the top 10, but also industry directories or purchasing platforms like machinevisiondirect.com or shine.lighting. The latter is a newcomer in the top 10, ranking 5 from scratch in September. This will be another interesting player to monitor in the next report.
Vital Vision also shows an impressive performance on the machine vision keyword. The Asian machine vision components distributor left the top 10 in September, but didn't drop very far and may be back in the list in Q4/2023…
Want to improve your SERP? Ask our experts!
The Google search algorithm is the best kept secret, but there are many ways to improve your organic search engine ranking position. It all starts with choosing the right keywords. Depending on the level of specialization of your company, it can make a lot of sense to use more specific, so-called long-tail keywords – for example "infrared LED ring light for machine vision" rather than just "machine vision light". This will ensure you rank high on those keywords that matter most for yourself and your customers. Once you have selected the right keywords, you can start optimizing your website, creating appropriate content and generate backlinks to improve your domain authority, to name a few examples.
Do you want to assess your current performance and improve your ranking? Contact us today! We are not only experts in digital marketing, we are also specialized in the machine vision industry and can help you fine-tune your keywords and your content to this specific audience.
Be sure to subscribe to our VisionLytics newsletter to get the next updates of our SERP reports delivered to your mailbox!