SEO: What are the top-ranking machine vision software brands?
The Search Engine Ranking Position (SERP) is a good indicator of the strength of a brand on a specific market segment. This is why at Vision Markets, we monitor the performance of our clients and their competitors on Google Search for their target keywords.
The chart below shows the top 10 domains for machine vision software as they appear on a standard Google.com search performed in the United States in Q3/2023.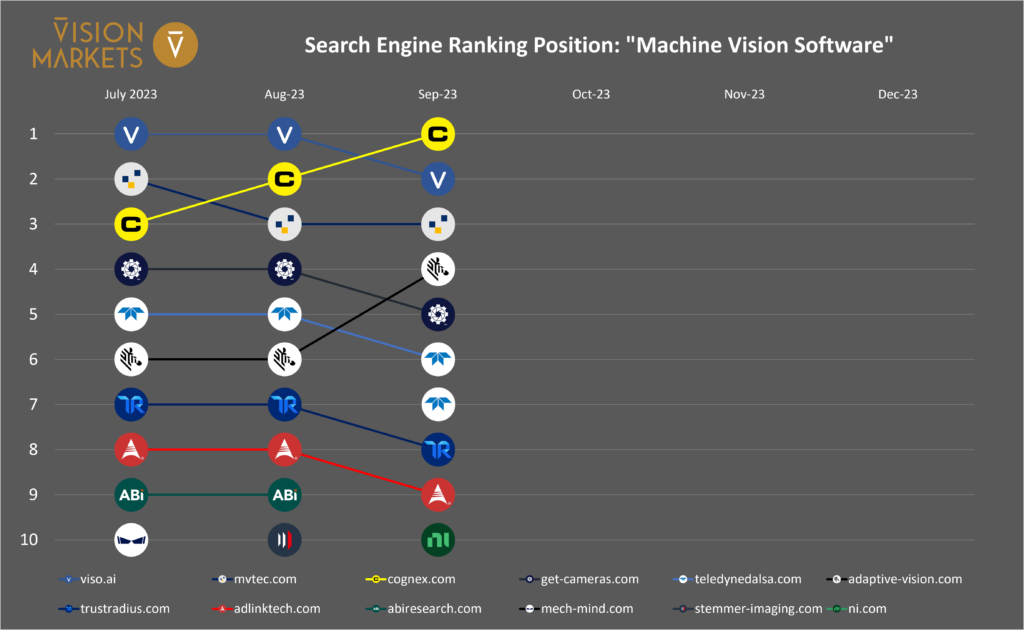 These results may differ from your own experience because of Google's localization and personalization based on your individual user profile. These are generic results ignoring any user personalization. However, they are a relevant indicator for those brands with the highest reputation in the machine vision software segment.
Lower volatility than in other segments
The expected big names in the industrial field are present, such as Cognex, MVTec, Zebra/Adaptive Vision, NI, Stemmer Imaging, etc. Interestingly, we don't see as much fluctuation from one month to the other compared to other segments like machine vision cameras or lenses. The top 10 players have a relatively stable performance. Mech-Mind, Stemmer-Imaging and NI are exceptions at the bottom of the ranking, although Stemmer-Imaging was not far off being in the top 10 before entering in August. NI, on the other hand, ranks unexpectedly low, especially considering that the test setup simulates a US-user.
One spectacular result is the performance of Viso.ai, a relatively young company that is leading the charts on the "machine vision software" keyword, ahead of well established brands.
Not only machine vision software vendors are ranked in this top 10. GeT Cameras, a Netherlands-based distributor of Daheng Imaging cameras, performs very well on the software keyword although they were not in the Top 10 on the machine vision camera keyword. Teledyne Dalsa, another camera vendor, also ranks steadily in the middle field of the SERP results.
Want to improve your SERP? Ask our experts!
Is your organization not featured in this list? Are you curious to know your ranking and that of your competitors for this or other keywords, maybe in other regions and languages? Contact us today! Not only do we continuously monitor top keywords of the vision industry, we can also create custom reports for more specific keywords tailored to your needs. This can be the foundation for an evaluation of your website and a strategy to improve your ranking through on-side and off-site activities.
If you want to keep updated how these SERP results evolve in the future, subscribe to our VisionLytics newsletter and get the next SERP reports delivered directly to your mailbox!